Fall/Autumn Colors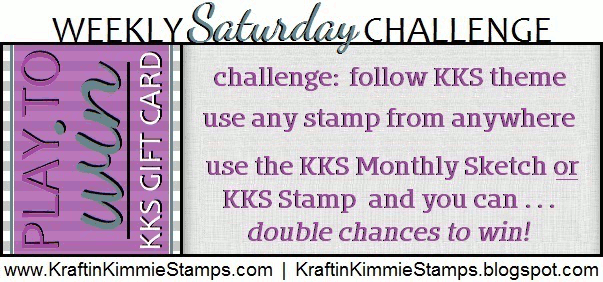 This weeks theme is Fall/Autumn Colors
We always enjoy your creations so be sure to submit them so you can have a chance to WIN a $20 gift card to the Shop!! Show us your stuff!! In keeping in line with the rest of our challenges (Wonderful Wednesday and our NEW Krafty Scrappy Challenge), we will be drawing one winner per month from all Saturday Challenge entries to win a $20 gift card!! You can enter as many times per month as you'd like!!
Have you joined the Kraftin Kimmie's Krafty Friends fb group?? It's the best place to keep up with all of the goings on as well as sharing YOUR creations and getting inspired by other Krafty Friends' creations!!!
October Peeks start on Wednesday!! Visit us on our FB Page or here to join in the "Merry Celebration"!
It's our Anniversary! Kraftin Kimmie is celebrating 8 years in October and to celebrate we're doubling the Frugal Friday Fun! Every Friday during the month of October, Kimmie will be posting 8 Krafty Sets for 40% off!!
In addition to the great Krafty Challenges & Wonderful Wednesday, each month we will post a Sketch. The sketch will last all month long and if you use it in ANY of our Challenges or WW's during that month you will get an additional chance to win a store gift card! You do NOT have to use the sketch, it's just a little extra boost for your mojo if ya need it!
Here is october's sketch:
And here is my card using the sketch!
To fit within the theme I colored the forest in fall colors!
I forgot to write my copic colors down so I did this from memory and I hope I didn't forget any colors:
Yellow: E15, yr23, y21 y11 added a bit of y08 in the darker areas to brighten it up
Orange: E18, 15, YR27, 23, 21
Green: G99, YG67, 63, 21 (dark trees have g99 and the light ones dont)
Skin: E04, 11, 21, 00, 00
Purple: V09, 06, 05, RV63
Green: G29, 45, YG13 (in the green hair there are some blues under it her hair was supposed to be blue and then I picked up a wrong marker and got some green in it so i had to make it all green :P )
Yellow: E15, YR23, Y08, 21, 11
Kitty: C07, 05, 03, 01, 0
Now create a card, scrapbook page or altered item with a Kraftin' Kimmie Stamp or any other stamp and be sure to use our THEME as a starting point for your creation!!! You will have until October 13th at 11:55 pm EST to get your entries in!
Pull out those fabby stamps and play along! Have some krafty fun and join us this week!!