Wonderful Wednesday, Purr-fect Princess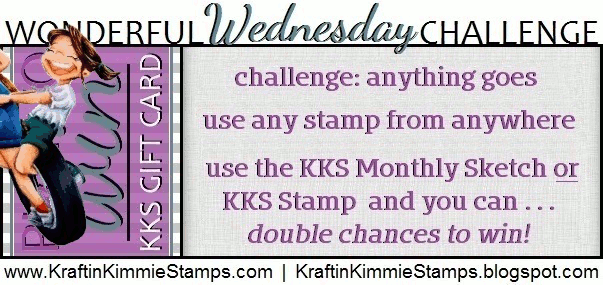 This is my first Wonderful Wednesday inspiration post as a Krafty Guest!
I am so excited to be part of this wonderful team and next week we are starting the previews for the october release! and you will love this release!!!
But while we are waiting for this new release come and play along on in this weeks Wonderful Wednesday challenge at the Kraftin' Kimmie Blog!
We want EVERYONE to be able to play along so your submission can use ANY stamp and can be any theme, any style, any design and it can be a card, a scrapbook page, an altered item....you name it!! It must be a NEW creation and you can enter on this weeks KKS blogpost until October 17th at midnight! At the end of the month one random winner will be chosen from all the submissions for the whole month and will receive a $20 Gift Card to the shop!!!
Isn't she lovely all curled up in her fancy chair with her little fur baby :)
I colored her with copics:
Skin: E04, 11, 21, 00, 000
Hair: BV08, 04, 13, 02
Eyes: E27, 25, 23
Blanket: R89, 39, 85, 83, 81
Chair: W09, 07, 05, 03 and BG78, 57, 53, 000
Kitty: C03,01,0,00

The flowers and fancy corners where a gift and I used papers from a local store.

Thank you for visiting and don't forget to play along!

***
Sabrina